NPFDA Foundation Scholarships
The funds for the scholarships come from private cash donations and donations to the NPFDA Foundation's annual silent auction. The silent auction is held each January during the NPFDA Annual Convention in Atlanta at the Awards Reception.

How can you get involved? Donate
Support the Scholarship Foundation by donating an experience, gift card, or item to our silent auction. Over 400 guests from all over the corporate globe will be thrilled to see your item represented in the auction. Not only would you be helping a great cause, your donation will increase your philanthropic presence and connect you to a whole new group of customers! The Scholarship Foundation is a 501(c)3 organization and donations are completely tax deductible. 100% of the proceeds benefit the Scholarship Foundation.
Donate to the silent Auction Now
Need ideas for donation items? Check out our amazon wishlist
NPFDA Foundation Board of Trustees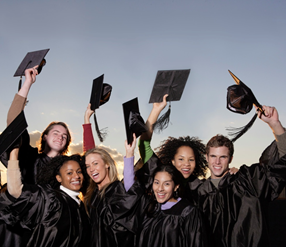 The National Protein and Food Distributors Association Scholarship Foundation has given almost $250,000.00 to rising leaders in the 40+years it has been operating. Every year since 1979, the NPFDA Foundation has awarded a select group of deserving students with a scholarship to help them complete their college education.
In the Past: The NPFDA Foundation Scholarship began when its leadership saw the need for outstanding "People Resources" in the agricultural industry. In 1986, the William Manson Family Memorial Scholarship and the Alfred Schwartz Memorial Scholarship Awards were established. In 1997, NPFDA named a third scholarship award the Albin S. Johnson Memorial Scholarship Award.
All applications and scholarships will be considered ONLY if the applicant is an employee or child of an employee of a NPFDA Member Company. The yearly award has increased to $4000 per student and the number of students to be awarded has increased to 5 ($20,000 total in awards).
How to Apply
The National Protein & Food Distributors Association's Scholarship Foundation is pleased to offer the opportunity for a scholarship award to NPFDA member children and/or employees. As an employee of a NPFDA member company, one of your greatest benefits is to exclusively apply for funds towards college tuition for you or your child.
Each selected student will receive a $4,000 scholarship.
To qualify, each applicant must:
You must be an employee of a NPFDA Member Company or be a child of an employee of a NPFDA Member Company.
You must be enrolled FULL TIME at a US based College or University OR be a high school senior. Graduate students are eligible to apply.
You must be pursuing a college degree.
We will accept electronic versions of your most recent transcripts for this year's application.
Complete the online application, in full. Check back in Spring of 2022 for next opportunity.
Provide a 500-word essay describing candidate's goals and aspirations. Submission maybe typed in form or attached.
Provide a letter of recommendation from a Department Head, Advisor or Dean.
All applications and documentations must be received by 5:00 p.m. April 30 before award year. If your transcripts arrive separately, they will be matched and attached to your online submission appropriately.
If you have questions, please email Cece@npfda.org or mail to:
NPFDA Scholarship Foundation
2014 Osborne Rd
Saint Marys, GA 31558
Donate
The foundation would not exist if not for the financial support of our industry. The generous donations of the Manson Family Memorial and other members' contributions have made the scholarship possible. Donations are accepted year-round at this website or can be mailed to NPFDA Scholarship Foundation, 2014 Osborne Rd, Saint Marys, GA 31558.
Members and other industry personnel are encouraged to consider aiding in this worthy project. Donations may be sent to the NPFDA office. NPFDA will increase the awards as funds allow. You may make your donation in memory of an individual - NPFDA will inform the membership and the family of the donation. The foundation and its activities are approved by the IRS and donations are tax deductible.
You can change the amount in your cart.