June Scobee Rodgers Featured Speaking at NPFDA's Fall Meeting
That's right...get ready to build connections and catch up with friends, peers, customers and vendors. Join other protein leaders at the National Poultry & Food Distributors Association Fall Meeting! In addition to amazing speakers, our always popular industry roundtables provide insightful discussion about the protein industry today. There will be an abundance of networking opportunities including receptions and activities for camaraderie and networking. On Tuesday, September 14th the meeting attendees will welcome Dr. June Scobee Rodgers, Founding Chair of Challenger Center, as the featured speaker.
Dr. Rodgers is the widow of Challenger Space Shuttle Commander Richard "Dick" Scobee. In memory of the "Teacher in Space" mission, June founded Challenger Center for Space Science Education to foster a new generation of "star challengers" – young people who will reach for the stars no matter their circumstances.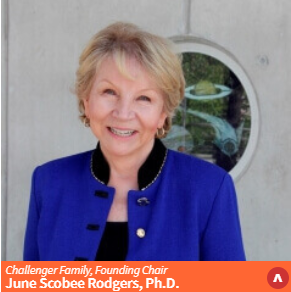 Photo Credit: Challenger Center